hens party Ideas
Have you been giving the task of organising your best friends hens party and need some hens party ideas? Unsure where to start, what to do and it all seems a bit overwhelming?
Firstly you have come to the right place. Gobananas has been organising hens parties for over 10 years and helped out 1000s of bridesmaids in a similar situation as yours.

So what type of hens party do you want for your friend and what would she like to do? We find that if you focus on what the bride likes and look at her personality, it is pretty simple and straight forward to narrow down which activities to book and how the hens party /weekend is supposed to be planned.
You can't make everyone in the group happy, but if you please the bride, you are pleasing the most important person!
Hens party ideas - two types of strategies
Show us action and as many men's bottoms as possible
Girls relaxing/fun weekend with no men perving over you.
Hens party ideas - THE active group
This type of hens party is for all those ladies out there who are into trying new activities and maybe seeing new things. So if you've always fancied giving activities like jetskiing, shooting, pole dancing lessons, nude art class, white water rafting a go or having a half-naked topless male waiter serve you champagne, then we say you fall into this category. Nighttime you would be looking at party buses, night club tours, cabaret or male revue shows – anything that is fun, loud and a bit wild!
We can arrange almost any type of activity, day or night. If you can't think of any or just embarrassed to ask for it, then we will quite happily suggest some activities for you. We know what works well together and compliments each other. Don't worry if mothers and grandmothers are going on the hens night as they tend to be the ones you have to hold back!!! (trust us!!)
HENS PARTY Ideas WITH A RELAXING FEEL TO IT.
This style of hens parties is for girls who want a relaxing day out or weekend and catch up with old friends. We would suggest more relaxing activities like a day at the wineries, mobile spa treatments, learn how to make cocktails, and for the evening a nice boat cruise, dinner or comedy club followed by a dance at a top nightclub.
How GOBANANAS can help with hens party ideas
- A dedicated staff member to look after your party
- We can book all your activities, accommodation and transfers.
- It is nice and easy with us – keeping everything in one place!
- You only have to pay 1 deposit to Gobananas for us to secure it all
- Group members can pay their own way
- We will advise you what to do and also what NOT to do. We have your interest at heart!
- We will provide you with all the maps and vouchers required
On our website find your location/city and see the options of day & night activities, accommodation and package options. All the information is on their including images and prices. After making yourself familiar with our products & packages, simply fill out the quick enquiry form with your details, or use our party builder tool and start building your own party.
Alternatively, if you need some guidance, help or more ideas call the office, where one of our dedicated party planners will help you out and answer any questions you may have.
WHY BOOK your hens party ideas through GOBANANAS
- We have organised 1000's hens parties
- Gobananas has already done all the leg work
- We have lots of destinations to choose from.
- Group payment system so each person can pay their own way
- Group online management tools for you to manage the party
You can either book one of our popular packages or we can build an itinerary to suit your budget and requirements, we have 600+ activities in Australia and products across all major cities and smaller regions as well. We can easily suggest, hold and book them quickly and easy.
Hens party games
The type of Hens party you create will in part be dictated by your hen's personality and preferences – does she prefer the active, let loose kind of event or the alternative; a relaxed event with an equally relaxed activity.
No matter which type you are catering for chances are you will want it:
1. Themed and personalised to represent your hen
2. Have included, a hen's party game or two
Lets be honest, without a theme and hens party games, it's just a party. You have to do something special and hens focused for it to be a truly amazing hens party – as girls we simply expect a personalised touch and games galore.
Hens Party Themes
This area can be as diverse as we are as people. It's all about picking a theme that reflects your hen's personality, likes, tastes and preferences.
Sex and the City
If your hen is fashion obsessed and girly from head to toe then a Sex in the City theme maybe a good choice – that choice is made even better if your hen displays characteristics similar to Carrie or any one of the other girls. It also then opens up the theme to allow those attending to dress as their favourite Sex in the City character – Samantha anyone?
1920's and Burlesque
Burlesque and 1920's themes have over the years gained popularity and we can see why, Burlesque adds a sexy siren element; one that allows you to let loose, get creative and unleash our inner sex bomb.
Add a sexy Burlesque dancer or lessons and it's a fun, male free option that brings out the naughtiness and allows you to look and dress fabulously sexy.
Princess
Okay this may not be a theme suited to all girls. But let's be honest, if you are a little princessy in your everyday life, then why not embrace who you are and go with it.
Being able to poke fun at oneself and ones friends is in part what life is all about – don't take things too seriously and have…FUN. Guests can come as their favourite Disney Princess or create your own princess alter ego, were thinking along the lines of "Little Miss". So it's no longer "Little Miss Perfect" but maybe, "Princess Perfect"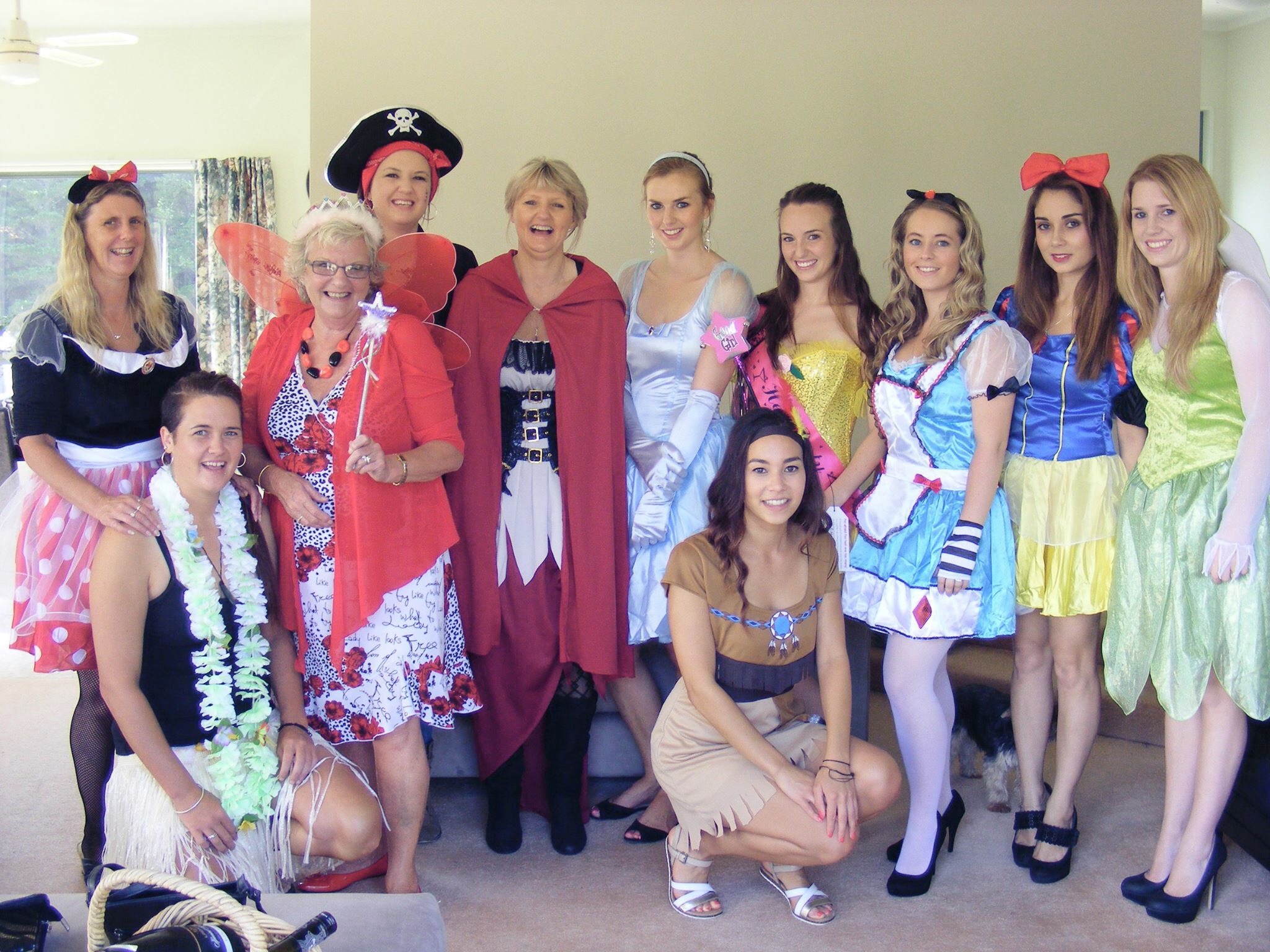 Pirates and Sailors
This theme is particularly applicable if you are looking to party at sea on a hens party boat cruise. What better way to pull a theme and venue together than to hire a party boat, cruise the harbour or river and do it all dressed to theme. Hashtag# - perfect partnership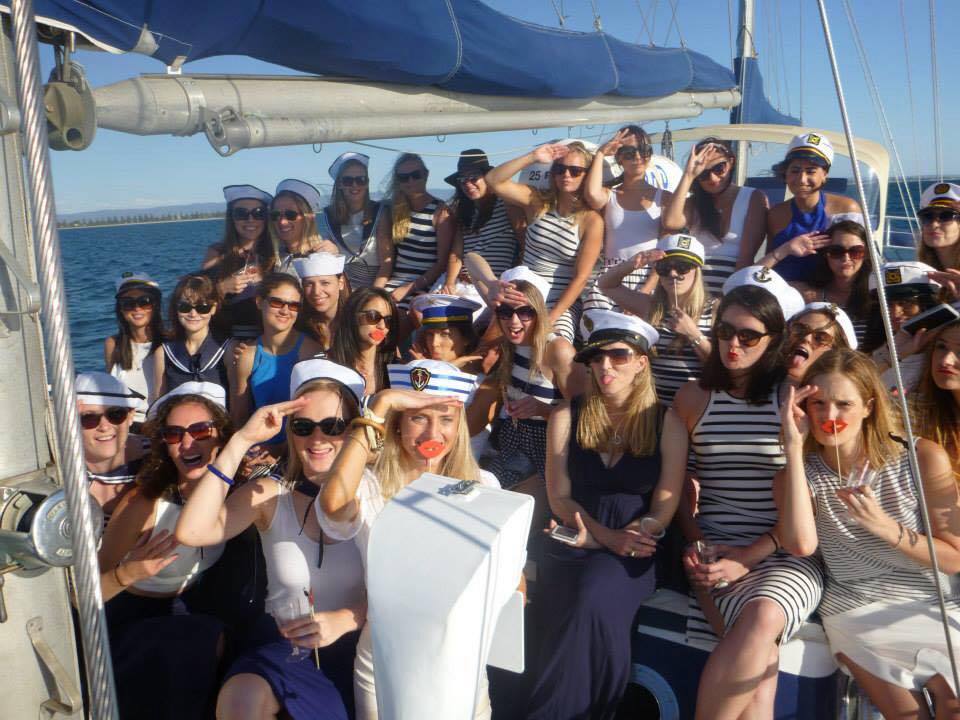 Fifty Shades of Grey
Not many of us will admit publically to reading Fifty Shades of Grey and it is a few years old now, but we all know the premise – innocent naïve young women seduced by a wealthy and sexually expressive man. As a party theme I see sexy bondage outfits, sexy office wear and games…fun, fun games…
Hens Party Games
This is where you as hens party organiser get to torment and torture your best friend, in the best possible way. There is a tonne of hens party games out there and what you choose will in part depend on where your hen's party is being hosted, who's going to be there and what your hen will be willing to do!
To help you out in this area we have 3 of our "sure to make you laugh" hens party game options:
1. Hens outfit changes
This may seem tame but it's unbelievably funny and can be as raunchy and revealing as you make it.
The bride has to dress up in 12 different costumes (provided by you) and location change specified by you. Someone then takes a photo of each outfit – 12 in total and you send those photos to us and we create a memory-filled calendar for the bride to keep. It's fun, hilarious and provides evidence and laughs for years to come.
2. Obstacle Course
This works particularly well with a waiter hosted event. Book our waiter experience and get the sexy man involved in the obstacle activities.
To begin, set up an obstacle course with whatever obstacles or activities you want to see your friends doing. Get them to begin at a starting point and then quickly run through all the obstacles and get timed.
The fastest gets to nominate a shot to someone or you can have prizes – it's up to you.
A good obstacle course could include (and this is where the topless waiter comes in handy):
• Doing a sexy dance up against one of the waiters then run to the next spot and
• Crawl through the legs of the bride or other nominated guest
• Have a sexy photo shoot – pose with a topless male waiter, then do 5 push ups and finally a body shot off one of the waiters NOT using hands. After the shot, the timer stops.
3. Pop the cherry
This game is as it sounds – the object is to pop the balloon or cherry. Each person has a balloon they have to blow up and then relay it by running up to the person in front and 'hump' them to make the balloon pop. Once they pop the balloon they take the Doggy Style position and wait for the next person to pop their balloon.
The first team to pop all their cherries win...For added hilarity and humiliation, this game is best played in public.
Getting the right mix
The perfect hens party is a combination of fun, personality, activities and interaction. Getting this mix right requires a good understanding of what your hen wants but also a strong degree of good planning and execution. Find your city for ideas.
Let us alleviate some of that worry and stress by taking care of the detail – we are professional hens party planners, let us do what we are good at, so you can do what you are good at – getting the party started and making sure your best friend has a night she will always remember. Check out the hens party locations for great activities to accompany your chosen theme and hens party games.
Hens party ideas - let Gobananas help you!